Bike of the Month - October 2010
1979 Honda CR250R Elsinore
Simon Potter
Petersfield, England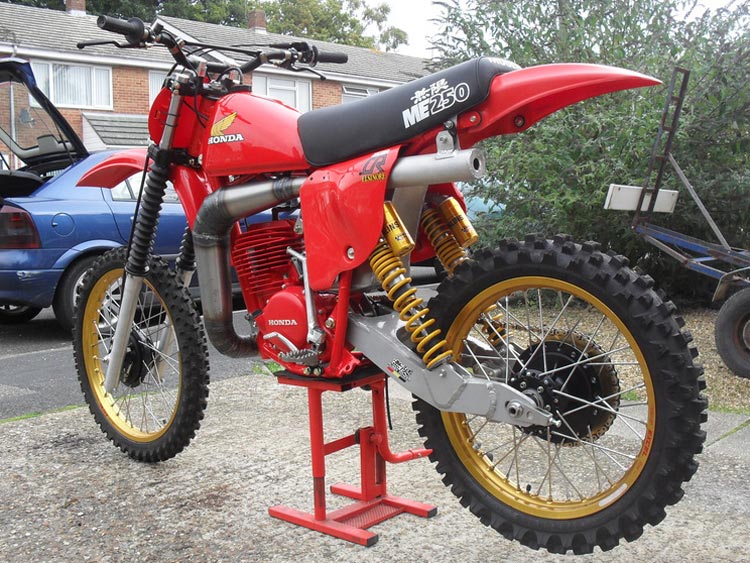 Hello,

Here's my 1979 Honda CR250R. I bought this thinking it just needed tidying up, but once I delved into it, it turned out to become a full restoration project.

After thousands spent and many, many hours of hard work this is how its turned out. I stripped the frame back to bare metal, welded on a bracket for a top front chain roller and then had the frame and tank professionally sprayed.

Along with new head stock bearings and seals, I aquired a new reproduction Mugen arm with bearings and sleeves. I had the Ohlin shocks revalved to suit me and the i 2 i length adjusted to give the correct seat height. I rebuilt the forks and spent many hours cleaning up the sliders.

I got new seat foam, rear fender, adjustable brake torque arm and decals from VMX. I got the Mugen ME250 seat cover from MXM. Custom made aluminium airbox (this is a work of art). Full engine rebuild, all new engine and transmission bearings, new rod kit, new piston, new nicosil, new seals gaskets, etc.. All cases, etc stripped back to bare metal then powder coated.

Luckily the transmission, clutch etc all measured up as new. Majority of original bolts used but restored and plated, custom made stainless steel rear axle to fit Mugen arm plus spacers from Phil denton engineering. All minor steel brackets, fixings,guides etc cleaned up and plated.

All new aluminium engine mountings. Retro Rocket expansion pipe from Vintage Iron, unbranded rebuildable aluminium silencer just the type I'd been looking for. The PFR wide pegs came with the bike.

I'm told the kickstart is a Mugen item, the knuckle certainly isn't stock and more like an 1980 125 style. The bike came with new gold Excel rims using a 19" rear rim, the hubs finish look poor so I had the wheels rebuilt with new butted stainless steel spokes and the hubs stripped and re painted satin black, new brake shoes and the backplate cam bearings resleeved.

That's about it for the more involved item's apart from the expected item's eg. chain cables etc. Running It sounds fantastic.

Hope you enjoy it.